There's a challenge going around booktube to read more nonfiction this month... I don't read a whole lot of nonfiction, so I'm challenging myself to read AT LEAST five books this month.
I picked ten from my TBR to choose from, all of which I've been meaning to read for some time. In no particular order....
1. The Life-Changing Magic of Tidying Up: The Japanese Art of Decluttering and Organizing
by Marie Kondō
I've been looking forward to reading this for a couple years now and just haven't got around to it. I have a little problem with clutter and hoarding, hence our name, and need all the help I can get to downsize.
Despite constant efforts to declutter your home, do papers still accumulate like snowdrifts and clothes pile up like a tangled mess of noodles?
Japanese cleaning consultant Marie Kondo takes tidying to a whole new level, promising that if you properly simplify and organize your home once, you'll never have to do it again. Most methods advocate a room-by-room or little-by-little approach, which doom you to pick away at your piles of stuff forever. The KonMari Method, with its revolutionary category-by-category system, leads to lasting results. In fact, none of Kondo's clients have lapsed (and she still has a three-month waiting list).
With detailed guidance for determining which items in your house "spark joy" (and which don't), this international best seller featuring Tokyo's newest lifestyle phenomenon will help you clear your clutter and enjoy the unique magic of a tidy home - and the calm, motivated mindset it can inspire.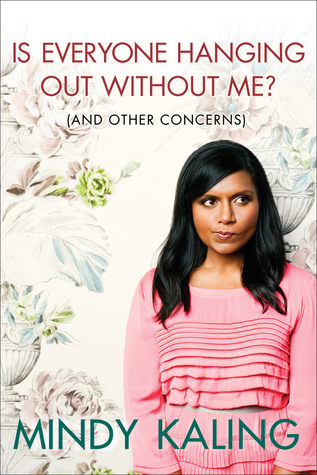 2. Is Everyone Hanging Out Without Me? (And Other Concerns) by Mindy Kaling
I actually started reading this via audiobook some months back... perfect opportunity to finish it!
Mindy Kaling has lived many lives: the obedient child of immigrant professionals, a timid chubster afraid of her own bike, a Ben Affleck–impersonating Off-Broadway performer and playwright, and, finally, a comedy writer and actress prone to starting fights with her friends and coworkers with the sentence "Can I just say one last thing about this, and then I swear I'll shut up about it?"
Perhaps you want to know what Mindy thinks makes a great best friend (someone who will fill your prescription in the middle of the night), or what makes a great guy (one who is aware of all elderly people in any room at any time and acts accordingly), or what is the perfect amount of fame (so famous you can never get convicted of murder in a court of law), or how to maintain a trim figure (you will not find that information in these pages). If so, you've come to the right book, mostly!
In Is Everyone Hanging Out Without Me?, Mindy invites readers on a tour of her life and her unscientific observations on romance, friendship, and Hollywood, with several conveniently placed stopping points for you to run errands and make phone calls. Mindy Kaling really is just a Girl Next Door—not so much literally anywhere in the continental United States, but definitely if you live in India or Sri Lanka.
3. Furiously Happy: A Funny Book About Horrible Things by Jenny Lawson
In LET'S PRETEND THIS NEVER HAPPENED, Jenny Lawson baffled readers with stories about growing up the daughter of a taxidermist. In her new book, FURIOUSLY HAPPY, Jenny explores her lifelong battle with mental illness. A hysterical, ridiculous book about crippling depression and anxiety? That sounds like a terrible idea. And terrible ideas are what Jenny does best.
According to Jenny: "Some people might think that being 'furiously happy' is just an excuse to be stupid and irresponsible and invite a herd of kangaroos over to your house without telling your husband first because you suspect he would say no since he's never particularly liked kangaroos. And that would be ridiculous because no one would invite a herd of kangaroos into their house. Two is the limit. I speak from personal experience. My husband says that none is the new limit. I say he should have been clearer about that before I rented all those kangaroos."
"Most of my favorite people are dangerously fucked-up but you'd never guess because we've learned to bare it so honestly that it becomes the new normal. Like John Hughes wrote in The Breakfast Club, 'We're all pretty bizarre. Some of us are just better at hiding it.' Except go back and cross out the word 'hiding.'"
Jenny's first book, LET'S PRETEND THIS NEVER HAPPENED, was ostensibly about family, but deep down it was about celebrating your own weirdness. FURIOUSLY HAPPY is a book about mental illness, but under the surface it's about embracing joy in fantastic and outrageous ways-and who doesn't need a bit more of that?
4. The Geek Feminist Revolution by Kameron Hurley
This has been the pick of the month in several of my Goodreads groups, but I never got around to picking it up either.
A powerful collection of essays on feminism, geek culture, and a writer's journey, from one of the most important new voices in genre.
The Geek Feminist Revolution is a collection of essays by double Hugo Award-winning essayist and science fiction and fantasy novelist Kameron Hurley.
The book collects dozens of Hurley's essays on feminism, geek culture, and her experiences and insights as a genre writer, including "We Have Always Fought," which won the 2014 Hugo for Best Related Work. The Geek Feminist Revolution will also feature several entirely new essays written specifically for this volume.
Unapologetically outspoken, Hurley has contributed essays to The Atlantic, Locus, Tor.com, and elsewhere on the rise of women in genre, her passion for SF/F, and the diversification of publishing.
5. Hardcore Self Help: F**k Anxiety by Robert Duff
Hardcore Self Help: F**k Anxiety is for those of us that find the prospect of reading a traditional self help book to be way too boring. How are you supposed to make positive change in your life if the book itself feels like a chore? This book is definitely not a chore.
In Hardcore Self Help: F**k Anxiety, I talk to you like a friend. There is lots of swearing and humor and also loads of helpful and actionable information. You learn about anxiety and how to find the weapons within yourself to slay it for good.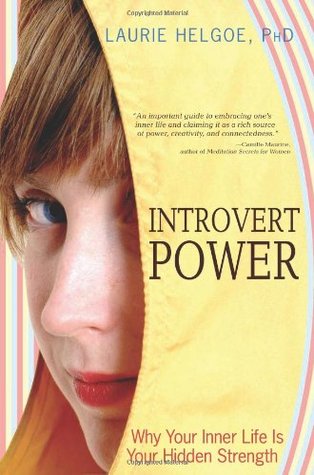 6. Introvert Power: Why Your Inner Life Is Your Hidden Strength
by Laurie A. Helgoe
EMBRACE THE POWER INSIDE YOU
Are you an introvert? Psychologist and introvert Laurie Helgoe reveals that more than half of all Americans are. Introverts gain energy and power through reflection and solitude. Our culture, however, is geared toward the extrovert. The pressure to enjoy parties, chatter, and interactions can lead people to think that an inward orientation is a problem instead of an opportunity.
Helgoe shows that the exact opposite is true: Introverts can capitalize on this inner source of power. INTROVERT POWER is a groundbreaking call for an introvert renaissance, a blueprint for how introverts can take full advantage of this hidden strength in daily life. Supplemented by the voices of several introverts, Helgoe presents a startling look at introvert numbers, influence, and economic might.
Revolutionary and invaluable, INTROVERT POWER includes ideas for how introverts can learn to:
Claim private space
Carve out time to think
Bring a slower tempo into daily life
Create breaks in conversation and relationships
Deal effectively with parties, interruptions, and crowds
QUIET IS MIGHT. SOLITUDE IS STRENGTH. INTROVERSION IS POWER.
7. The Book of Joy: Lasting Happiness in a Changing World by Dalai Lama XIV, Desmond Tutu, Douglas Carlton Abrams
Two great spiritual masters share their own hard-won wisdom about living with joy even in the face of adversity.
The occasion was a big birthday. And it inspired two close friends to get together in Dharamsala for a talk about something very important to them. The friends were His Holiness the Dalai Lama and Archbishop Desmond Tutu. The subject was joy. Both winners of the Nobel Prize, both great spiritual masters and moral leaders of our time, they are also known for being among the most infectiously happy people on the planet.
From the beginning the book was envisioned as a three-layer birthday cake: their own stories and teachings about joy, the most recent findings in the science of deep happiness, and the daily practices that anchor their own emotional and spiritual lives. Both the Dalai Lama and Archbishop Tutu have been tested by great personal and national adversity, and here they share their personal stories of struggle and renewal. Now that they are both in their eighties, they especially want to spread the core message that to have joy yourself, you must bring joy to others.
Most of all, during that landmark week in Dharamsala, they demonstrated by their own exuberance, compassion, and humor how joy can be transformed from a fleeting emotion into an enduring way of life.
8. The Introvert Advantage: How to Thrive in an Extrovert World by Marti Olsen Laney
Do you "zone out" if too much is going on? Are you energised by spending time alone? In meetings, do you need to be asked for your opinions and ideas? Do you tend to notice details that other people miss? Is your ideal celebration a small get-together, rather than a big party? Do you often feel like a tortoise surrounded by hares? The good news is, you're an introvert. The better news is that by celebrating the inner strengths and uniqueness of being an "innie" THE INTROVERT ADVANTAGE shows introverts, and the extroverts who love them, how to work with instead of against their temperament to enjoy a well-lived life. Covering relationships, parenting - including parenting the introverted child - socialising, and the workplace, here are coping strategies, tactics for managing energy, and hundreds of valuable tips for not only surviving but truly thriving in an extrovert world.
9. Things No One Will Tell Fat Girls: A Handbook for Unapologetic Living by Jes Baker
THIS IS JES BAKER'S BODY-LOVE PARTY, AND YOU'RE INVITED.
Among the many Things No One Will Tell Fat Girls that you don't want to miss:
1. It's Possible to Love Your Body (Today. Now.)
2. You Can Train You Brain to Play Nice
3. Your Weight Is Not a Reflection Of Your Worth
4. Changing Your Tumblr Feed Will Change Your Life
5. Salad Will Not Get You to Heaven
6. Cheesecake Will Not Send You to Hell
With her trademark wit, honesty, and rallying spirit, veteran blogger and advocate Jes Baker makes the case for embracing a body-positive worldview, changing perceptions about weight, and making mental wellness a priority. Alongside notable guest essayists, Baker calls on all people to reject fat prejudice, fight body-shaming at the hands of marketing and media, and join the life-changing movement with one step: change the world by loving your body. If you're a person with a body, this book is for you.
10. Seriously... I'm Kidding by Ellen DeGeneres
"Sometimes the greatest things are the most embarrassing." Ellen Degeneres' winning, upbeat candor has made her show one of the most popular, resilient and honored daytime shows on the air. (To date, it has won no fewer than 31 Emmys.) Seriously... I'm Kidding, Degeneres' first book in eight years, brings us up to date about the life of a kindhearted woman who bowed out of American Idol because she didn't want to be mean. Lively; hilarious; often sweetly poignant.
~*~*~*~*~*~*~*~*~*~*~
I may or may not switch/add some books, but for now, these are the ones I'd really like to choose from this month. What about you? Are you planning to participate in Nonfiction November? If you are, what books do you plan to read?